The 2023 Paint Colors of the Year
2023's paint predictions are centered around earth-toned nature-inspired hues with vintage vibes thrown in!
Every fall, color experts from the leading paint brands predict the hues that will shape our homes in the coming year. It doesn't take long for the year's trending paint colors to spread to other art forms, from popping up in furniture stores to fashion runways.
The 2023 paint colors of the year include calming neutrals, warm earth tones, soothing blues, and earthy shades of pink. So far, we've seen a range in the 2023 color predictions making it clear that there won't be a one-hue-everywhere color takeover that dominated the 2022 color trends. That said, there is one common trait among all of the leading paint brands' color predictions; they are all versatile shades aiming for positive and warm vibes that they hope the year has in store for us!
Behr, Sherwin-Williams, Glidden, Dutch Boy, and Better Homes and Gardens have all come out with their picks for 2023's "Color of the Year".
Here's a look at the 2023 colors of the year that have already been released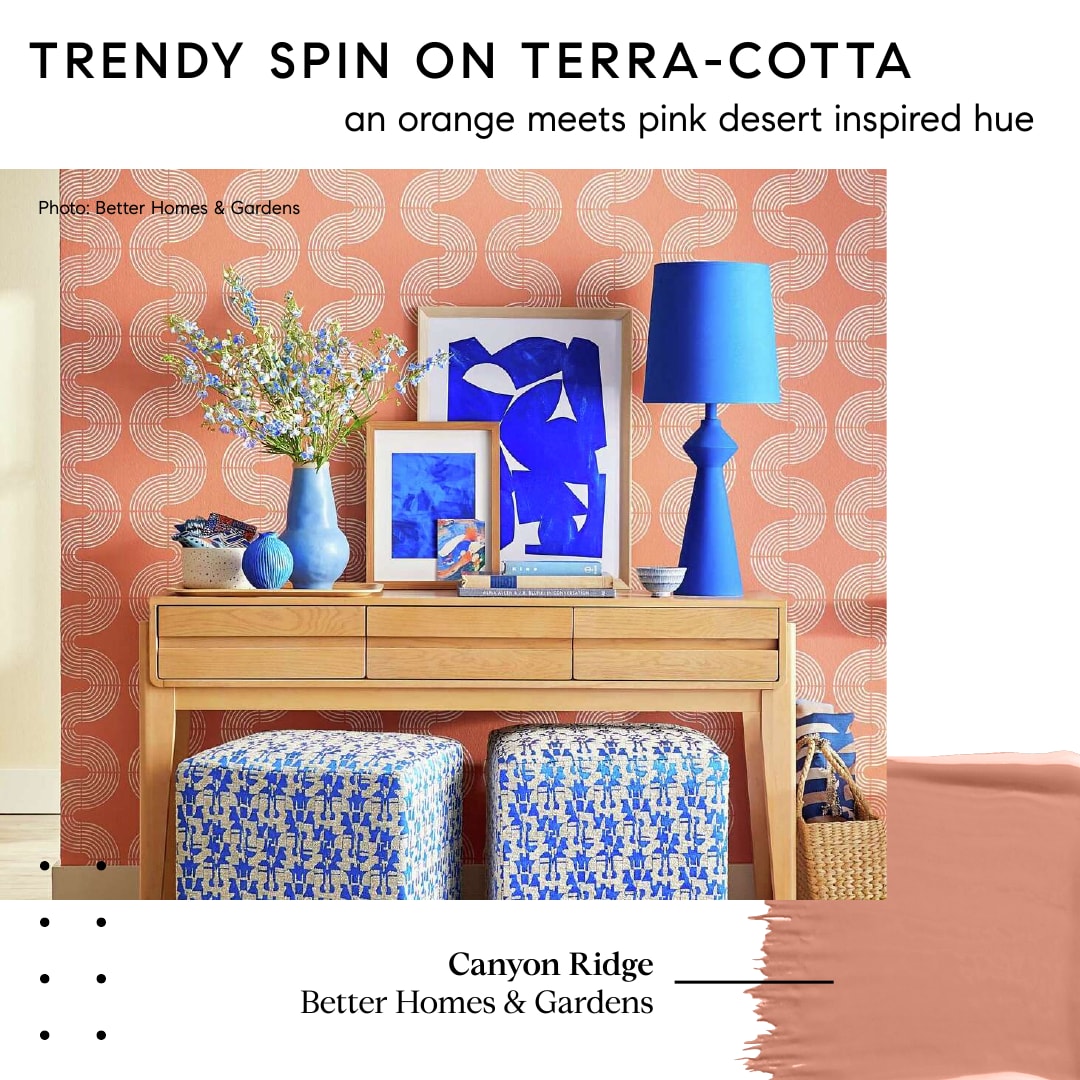 The warm tone infuses energy and comfort into any space
Better Homes & Gardens (BHG) announced Canyon Ridge as the brand's second annual selection for Color of the Year. BHG editors describe this sun-baked coral shade as...
"A subtle spin on terra-cotta, it skews more sunbaked clay than cayenne pepper for a near-neutral ideal on walls."
Referencing the color wheel and its relationship between colors, BHG Style and Design Director Jessica Thomas provided great tips for using this soft terra-cotta hue with a vibrant cobalt for a fresh modern look, tweaking the tone of blue to a darker denim color to create a rustic vibe, or pairing it with navy if your design style is more traditional.
BHG partnered with their favorite DIYers to offer innovative ways to add this desert-inspired shade to your home. You can find all of the inspiration and tutorials
HERE.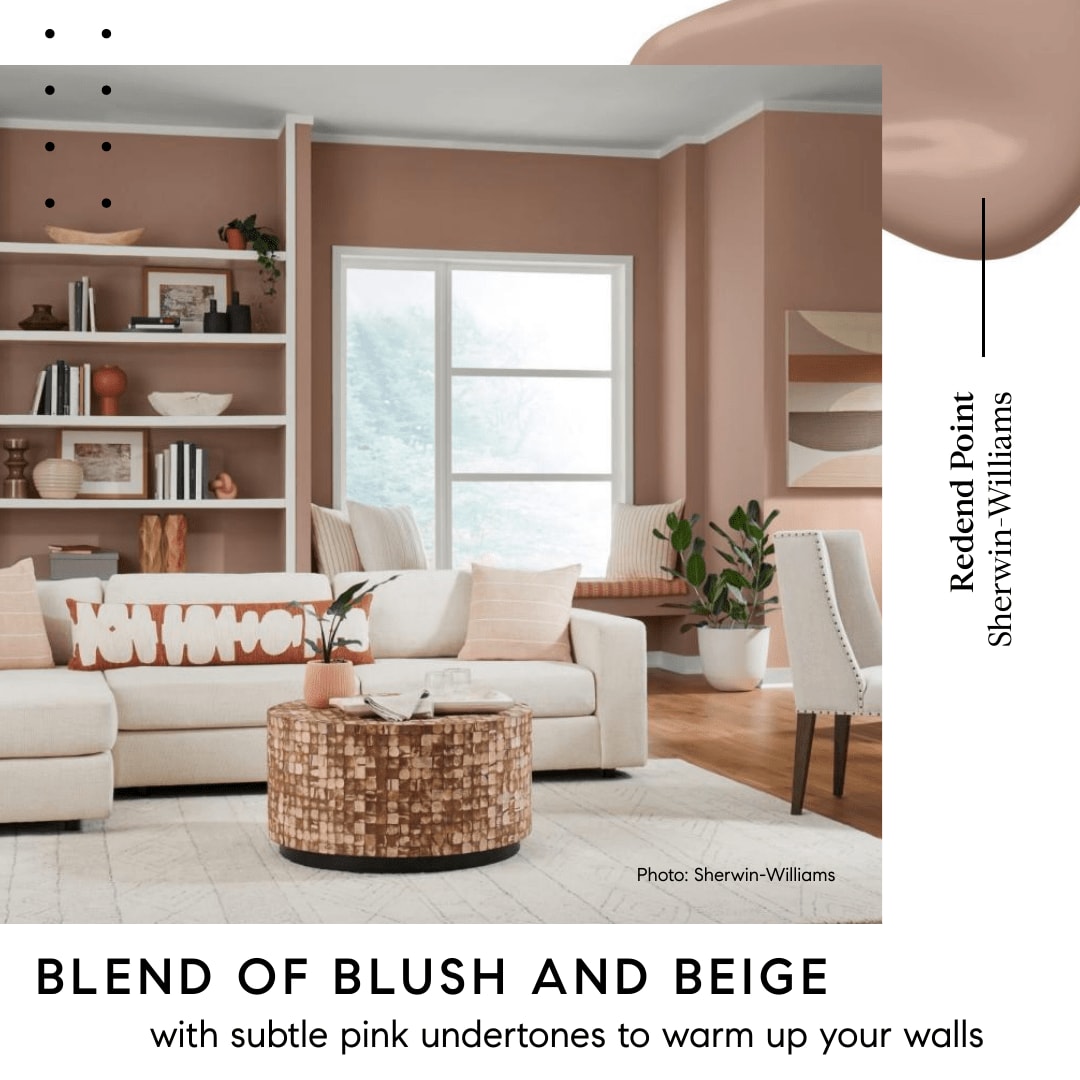 Bring home the warmth and intrigue
Continuing with the dessert-toned trend, Sherwin-Williams announced Redend Point as their pick for 2023. Inspired by the current trend of neutrals warming up, this blush-beige mid-tone neutral was designed to incorporate comfort and coziness into the home. Redend Point is...
"Not too light or too dark, not too moody or too sweet.... It's a great option [that] plays well with other neutrals." --Sue Wadden, Sherwin-Williams Director of Color Marketing
The paint giant explains that this universal neutral can play as a colorful companion to cooler neutrals, yet it can also tame more colorful choices or stand on its own by giving the room an uplifting vibe. "It's a great option [that] plays well with other neutrals," Wadden explains. "If you put it next to beige, Redend Point really looks like a color. But on its own, you see that it really does act like a neutral, so it's well-behaved."
This earthy-toned hue stands out alongside natural-looking textiles, paired with wood accents, or by layering terracotta shades and clay materials.
CLICK HERE
to learn more about this versatile soft-neutral.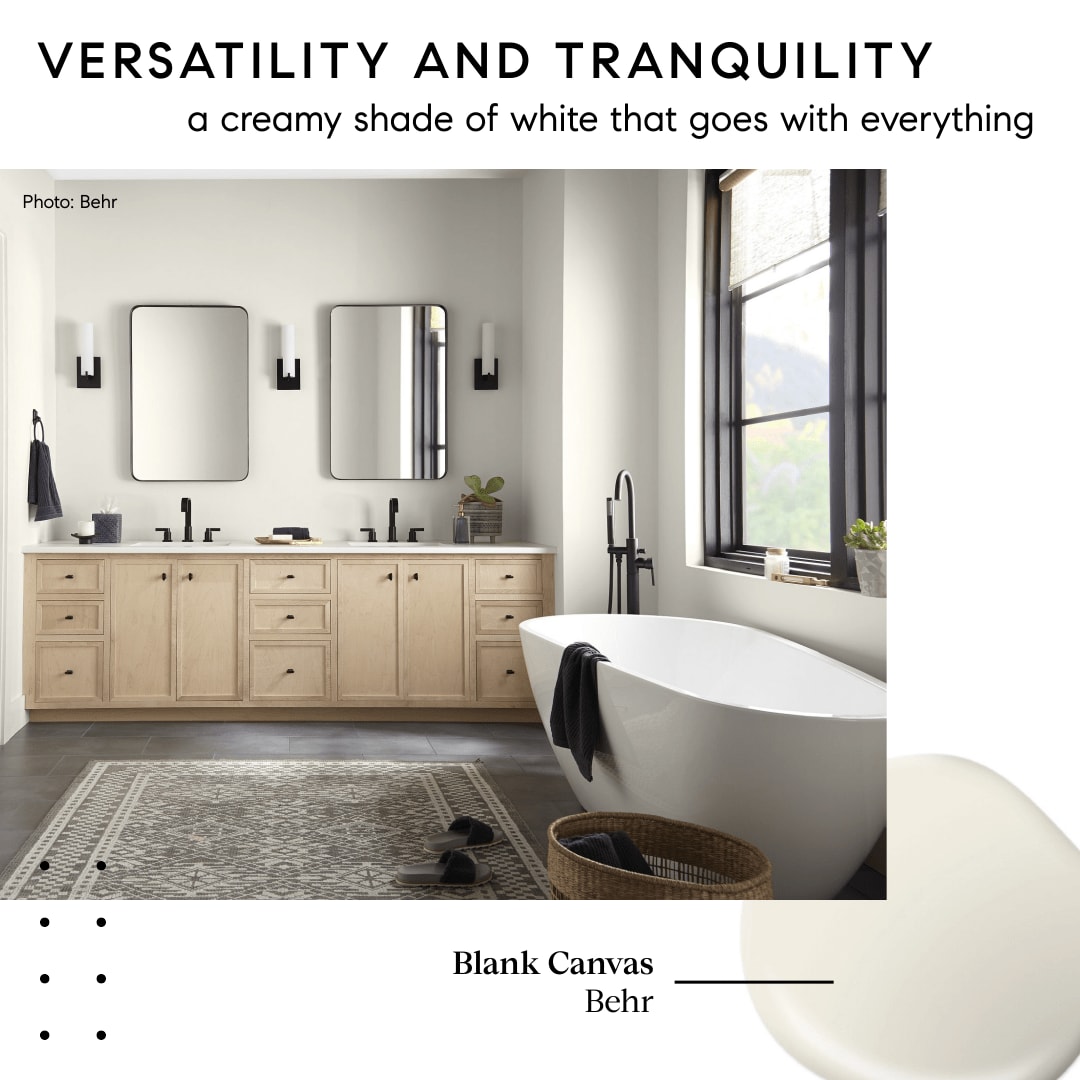 Blank Canvas renews every room of the home
Opting for a color that creates room for transformation, Behr selects the warm white shade Blank Canvas as their 2023 color of the year. Behr's choice shows that not every color of the year aims to make a statement by providing the perfect foundation color to build on for a layered look.
"Blank Canvas effortlessly offers a clean and inviting blank slate that allows individuality and creativity to flow freely. This white easily harmonizes with a wide range of hues, including neutrals, earth tones, and pastels for a charming and cozy appeal." --Erika Woelfel, vice president of color and creative services at Behr
With countless home decor articles and blogs attempting to help homeowners narrow down the perfect shade of white, Behrs Blank Canvas aims to shine the spotlight on the perfect shade of white for any project or color scheme. If you are hesitant to commit to one of the trending colors, choosing a neutral shade like Blank Canvas is an easy way to modernize your space without worrying that you're committing to a passing fad. The color maintains the brightening elements of a classic white but still exudes warmth and coziness.
To explore more about this welcoming white,
CLICK HERE
.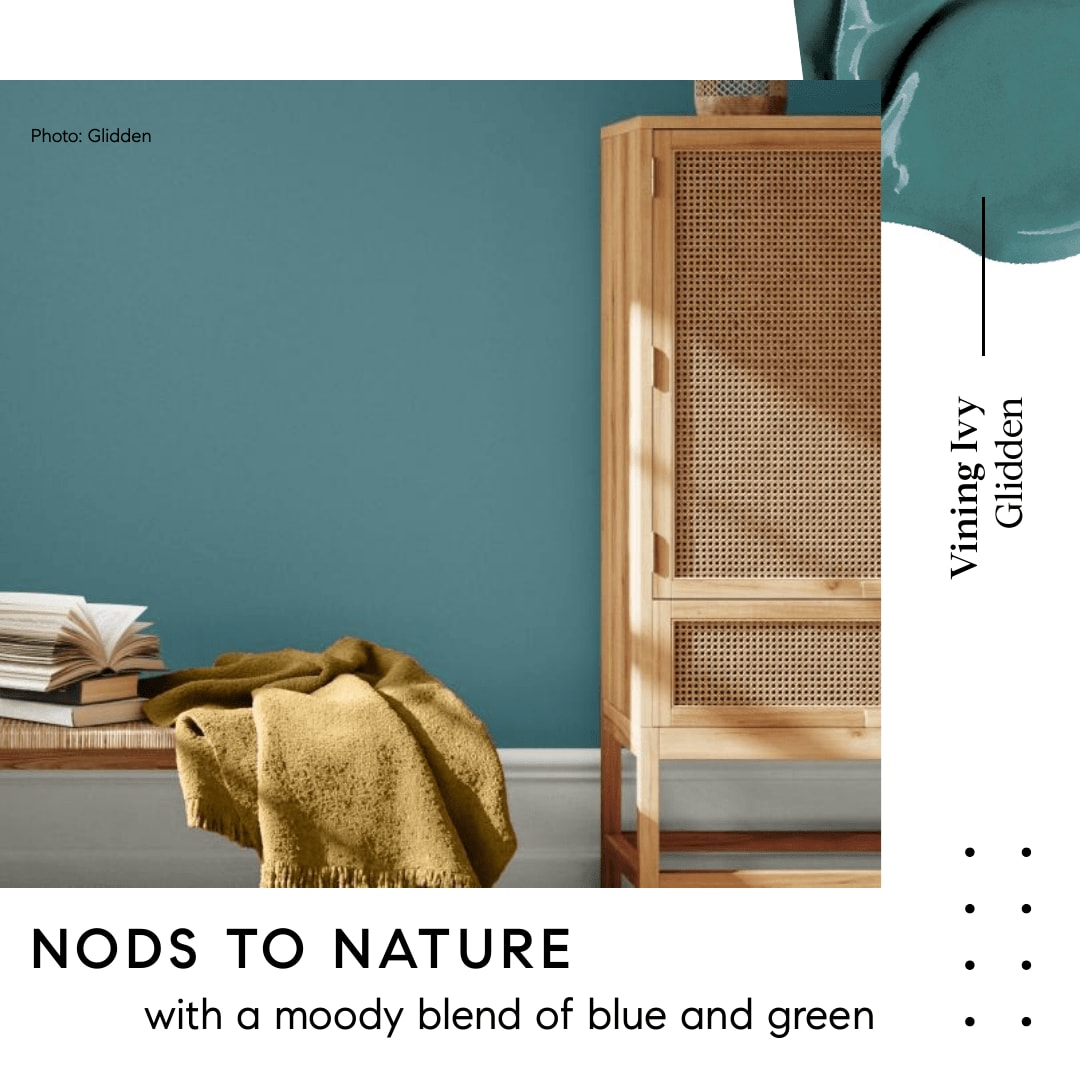 Vining Ivy is absolutely, positively blue.... and green.
Claiming that "it's so nice, we picked it twice", two leading paint companies, Glidden and PPG, paired up to name Vining Ivy as their 2023 color of the year. This restorative shade fuses the best elements of jewel tones and natural elements. Vining Ivy is a bold blue-green making it the perfect on-trend addition for contemporary designs or a refined pop of color for traditional spaces.
"It is energizing yet grounding, and it works in literally any space. Its versatility takes the guesswork out of design, leaving consumers with more time to indulge in the things that matter most to them." --
Ashley McCollum, Glidden color expert
You can use this adaptable teal as a striking wall color paired with deeper-toned woods and off-white trim to create a nature-infused vibe or to create a luxurious glam look by pairing it with gold accents and bright white trim. This "bluish-greenish-something-in-betweenish" color of the year is also eye-catching on trim and cabinetry. Home decor with rich textures, wood finishes, and stone accents complement the deep tones of Vining Ivy.
Vining Ivy aims to shine a light on the importance of serenity by giving homeowners a color to help them shift from an all-white or all-neutral scheme to a more varied colorful space! For more on how to incorporate this pop of color into your space,
CLICK HERE
.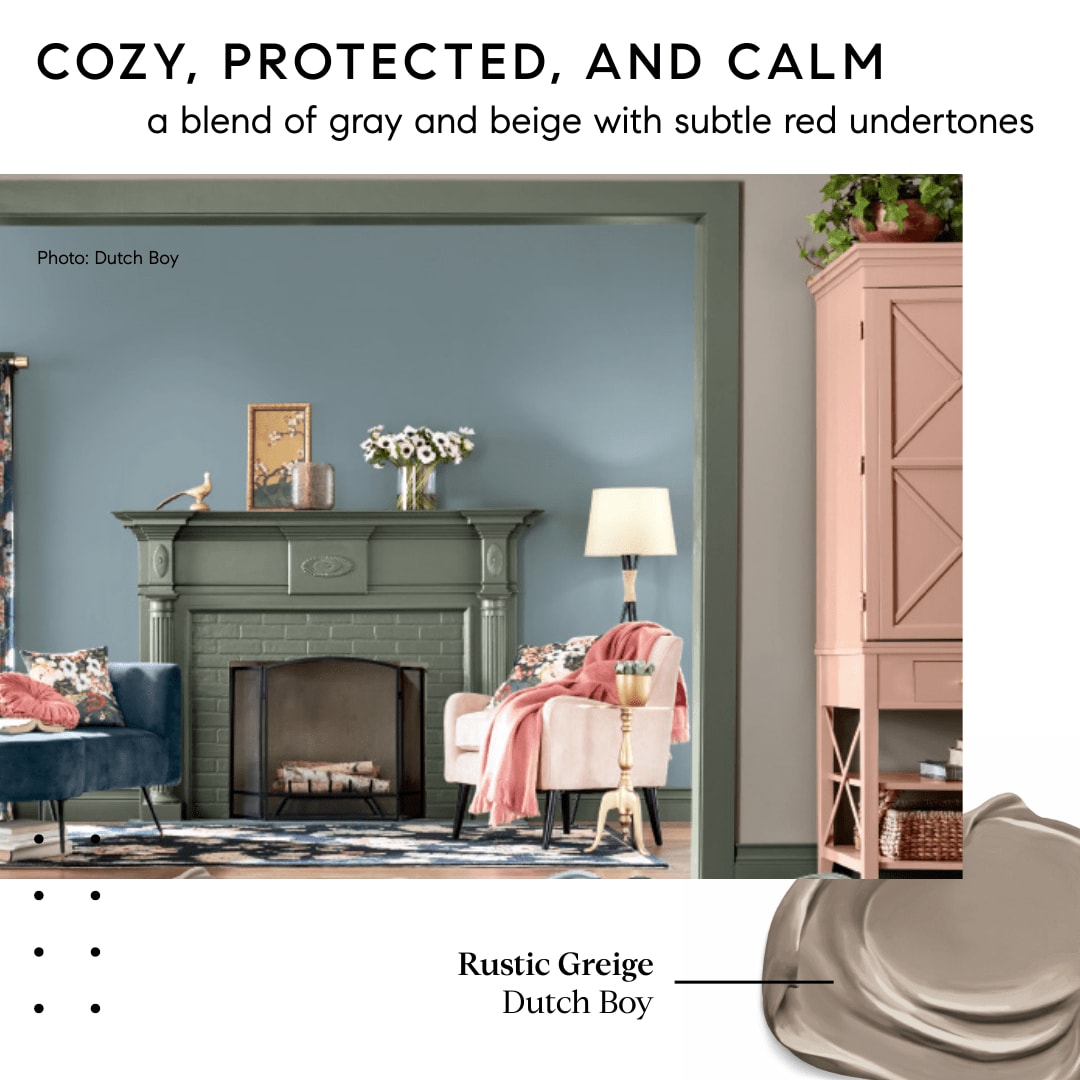 Dutch Boy's color of the year reflects a sense of deep-rooted comfort.
After years of uncertainty, Dutch Boy Paints named Rustic Greige as their 2023 color of the year with the goal of bringing comfort back into the home. The balance of this medium-toned neutral with red undertones creates a look that is both worldly and charming!
"The importance of overall well-being remains a primary focus in everyday lives. That's why more DIYers are dedicating time and energy to designing personal spaces that make them feel cozy, protected and calm. Dutch Boy Paints' 2023 One-Coat Color of the Year is all about the need to escape, relax and recharge. It's about retreating to a calmer, simpler lifestyle inspired by the peace and clarity of tones derived from nature." -- Ashley Banbury, Dutch Boy Paints Senior Color Designer
This cozy, warm, and versatile neutral effortlessly combines a variety of colors with the shade's perfect balance of cool gray and warm browns. In tandem with their 2023 color of the year announcement, Dutch Boy Paints also named three colors of the year palates to highlight the color of the year's ability to work as both a backdrop and as a focal point in a room. Rustic greige is an adaptable hue that grounds all three of Dutch Boy's 2023 Color Trend palettes - Plush, Wistful, and Botanic.
The Dutch Boy Paint brand can be applied in one smooth coat, making it a favorite among DIYers! The paint brand goes the extra mile to help its consumers with the painting process from beginning to end.
CLICK HERE
to visit their website filled with how-tos, DIY inspiration, and everything else you need to bring a project from start to finish.