How much equity have you gained in the past year?
As home prices continue to soar to new highs, the average amount of equity gained followed suit by doubling the previous peak in 2006! The average equity gained from Q1 2021 through Q1 2022 is mind-blowing!

Housing wealth (equity) accumulation typically takes time, and is built up slowly by price appreciation and paying off the mortgage. However, the current real estate market continues to defy the odds!!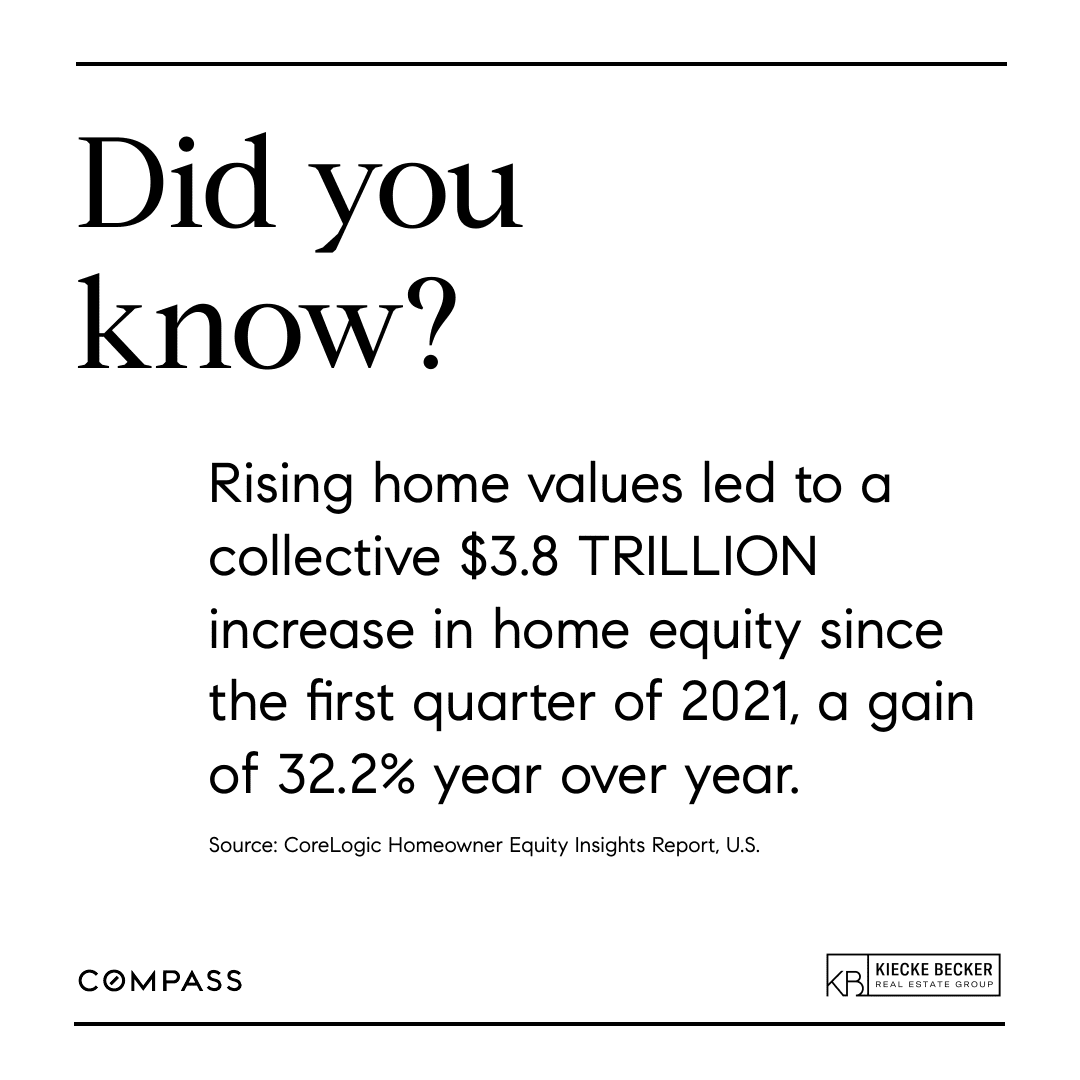 CoreLogic just released its Homeowner Equity Insights report through Q1 2022. Here is a breakdown of the stats tracking average equity gains over the course of one year between Q1 2021 and Q1 2022:
In the greater Houston area, homeowners gained an average of $46,500.
Texas homeowner's gained an average of $54,000 in equity.
The national average home equity gain was $64,000.
In total, the nation's so-called tappable equity stands at $11 trillion. To put that in perspective, it is 2 times the previous peak in 2006!
CLICK HERE
to read CoreLogic's full Homeowner Equity Insights report.
Why your home equity matters
For a homeowner, your equity is the current value of your home minus what you owe on the loan. So, as home values climb, your equity does too! According to CNBC, the profit on a typical home sale in 2021 was just over $94K, an increase of 45% from 2020's profits and up 71% from pre-pandemic profits! By the end of 2021, 42% of homeowners were considered equity-rich!
Bottom line
Whether you're a current homeowner or you're ready to become one, it is important to know how home equity works and why it matters. The amount of equity a person has in their home often plays a factor as to whether it makes sense for a homeowner to sell their home, use part of their profit, and move up or downsize.
Did you know that Houston claimed the number 1 spot for top relocation cities?! Out-of-towners continuing to set their sights on the Bayou City plays a big part in our city's robust real estate market!
Are you thinking about selling or are you just curious about how much equity you've gained? Reach out to request a personalized homeowner equity report! You can reach out to me directly at 832.594.1265 or
[email protected]
or
CLICK HERE
to request your home's value through our website.