Steady consumer demand drives home prices to record highs and inventory back to historic lows
Soaring home prices and evaporating inventory did not stop the greater Houston real estate market from scoring double-digit gains in February 2022! According to the Houston Association of Realtors (HAR) most recent market update, homes in the greater Houston area reached an all-time high as the average price spiked 13.4% to $395,871, while the median price increased 19.3% to $328,000. Sales of all property types jumped up 43.5% for a total dollar volume of $3.5 billion!
Homes priced between $250,000 and $500,000 led the way in sales for the month, with a jaw-dropping 80.1% year-over-year gain. The $500,000 to $1 million housing segment came in second place, surging 72.3%. That was followed by the luxury market – consisting of homes priced at $1 million and above – which rose by a staggering 33.5%.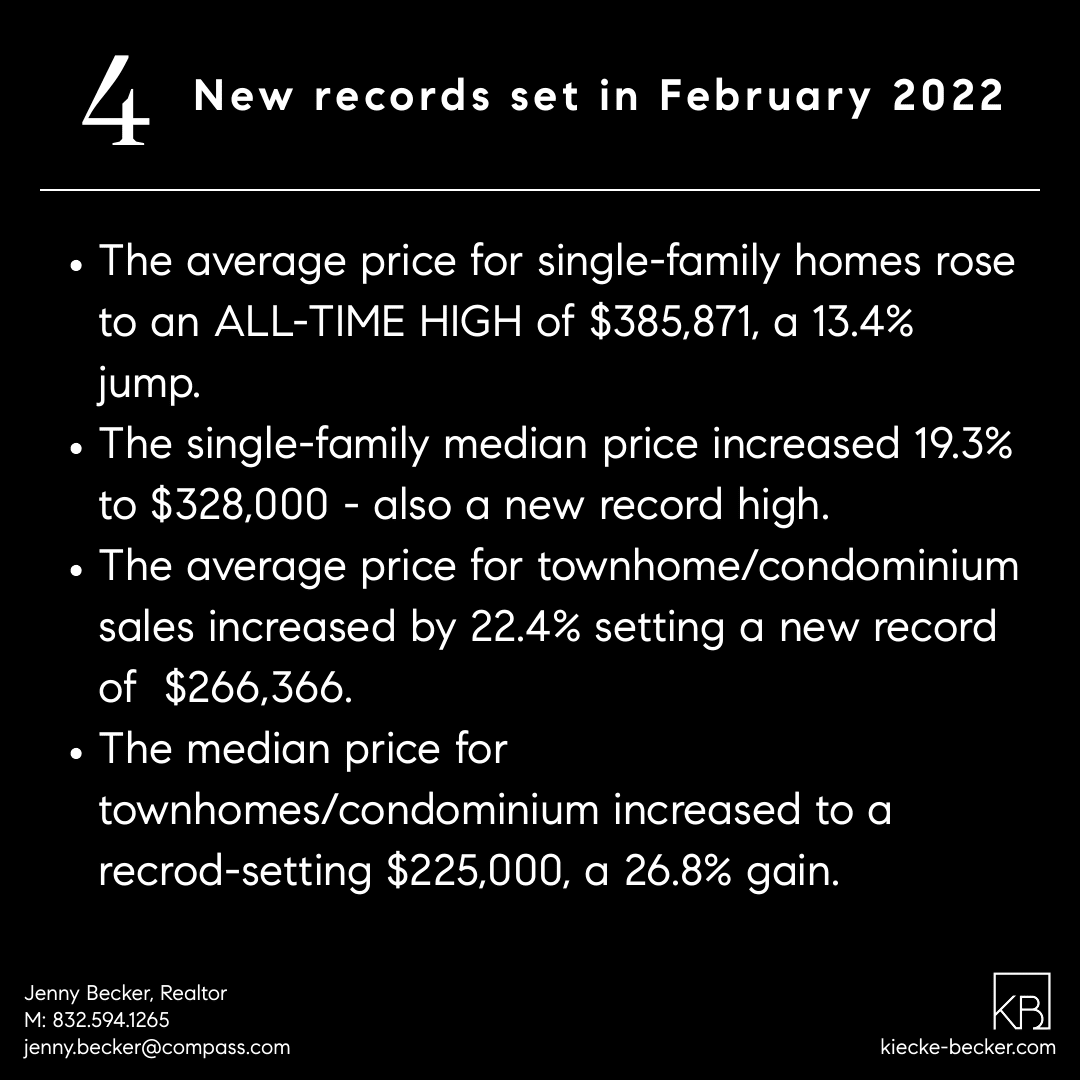 Houston Real Estate Highlights in February 2022:
Single-family home sales rose 22.9% percent year-over-year.
Days on Market (DOM) for single-family homes dropped from 48 to 41 days.
Total property sales rose 25.6% with 9,299 units sold.
Total dollar volume increased 43.5% to a whopping $3.5 billion.
The single-family average price rose to an ALL-TIME HIGH to $385,871, a 13.4% jump.
The single-family median price increased 19.3% to $328,000 – also a set a new record high.
Single-family home months of inventory registered a 1.3-months supply, down from 1.5 months year-over-year and below the national inventory of 1.6 months.
Townhome/condominium sales jumped 35.9% with the average price up 22.4% to $266,366 and the median price up 26.8% to $225,00 – both record highs!
If you're on the fence about selling, NOW IS THE TIME! Are you curious what your home is worth in this record-setting market?!
CLICK HERE
to request a complimentary home evaluation or reach out directly to
[email protected]
or 832.594.1265.