Houston Market Update September 2022
Houston area home prices continued to stay in record-setting territory in September 2022; despite rising interest rates, inflationary headwinds, a decline in the number of homes sold, and the increase of available homes on the market.
If you read or watch the news, you would conclude that real estate markets everywhere are in crisis, and prices are plunging. While it's true that a shift to a more normal market is underway, real estate markets are, in fact, hyper-local. In Houston, Katy, and Fulshear, the sky is not falling, prices aren't plunging, and we are not in crisis. While the local real estate market is adjusting, the greater Houston area has a long way to fall to be in line with pre-pandemic numbers.
According to the Houston Association of Realtors (HAR) recently released September 2022 market update, both the average and the median home prices experienced double-digit gains while the overall number of homes sold slowed for a sixth straight month.
A look inside the Houston area real estate market
Home prices are still at RECORD HIGHS. Both the average and median home prices had double-digit gains on a year-over-year basis; the average price of a single-family home rose 11.6% to $414,776 – slightly higher than last month's average of $411,671 – while the median price jumped up 14.7% to $343,950.
The median home price in September 2022 was the THIRD highest in Houston real estate history, while the average sales price topped last month making it the FIFTH highest ever.
More active listings are on the market. Houston area homebuyers have more options as the number of available homes continues to increase. Inventory of homes, measured by how long it would take to sell all of the active homes on the market, increased to 2.7-months supply -- the highest level since July 2020.
For frame of reference, September 2021's supply was 1.7-months and last month's supply was 2.5-months.
High-end homes led the way. The luxury market flourished in September 2022 with the $500,000 to $1 million housing segment establishing itself as a top performer with a 12.6% increase. Homes priced at $1 million and above also experienced positive gains, rising 7.2%.
The lack of inventory under $400,000 led to the remaining housing segments underperforming.
The number of homes sold continued to tap the breaks. Single-family home sales fell 17% on a year-over-year basis with 7,664 units sold throughout the greater Houston area, compared to 9,235 a year earlier.
For a pre-pandemic perspective, home sales in September 2022 were up 8.7% compared to three years ago; when the median price was 40.6% lower, at $244,679, and the average price was 38.4% lower, at $299,600.
HAR's market update provided eye-opening insight putting these numbers into perspective:
"For a pre-pandemic perspective, September sales are up 8.7 percent compared to three years ago, in September 2019, when a total of 7,050 single-family homes sold. The median price then was 40.6 percent lower, at $244,679, and the average price, at $299,600, was 38.4 percent lower. Sales are 10.2 percent above where they were five years ago, in September 2017, when volume totaled 6,953. Back then, the median price was $232,000 and the average price was $290,683 – reflecting pricing jumps of 48.3 percent and 42.7 percent, respectively."
A historical look at the average sold prices for the month of September. Housing across the greater Houston area has experienced unprecedented appreciation since the pandemic struck in 2020. I went through HAR's September market updates for the last five years to find out exactly how "historic" the year-over-year (YOY) appreciation was.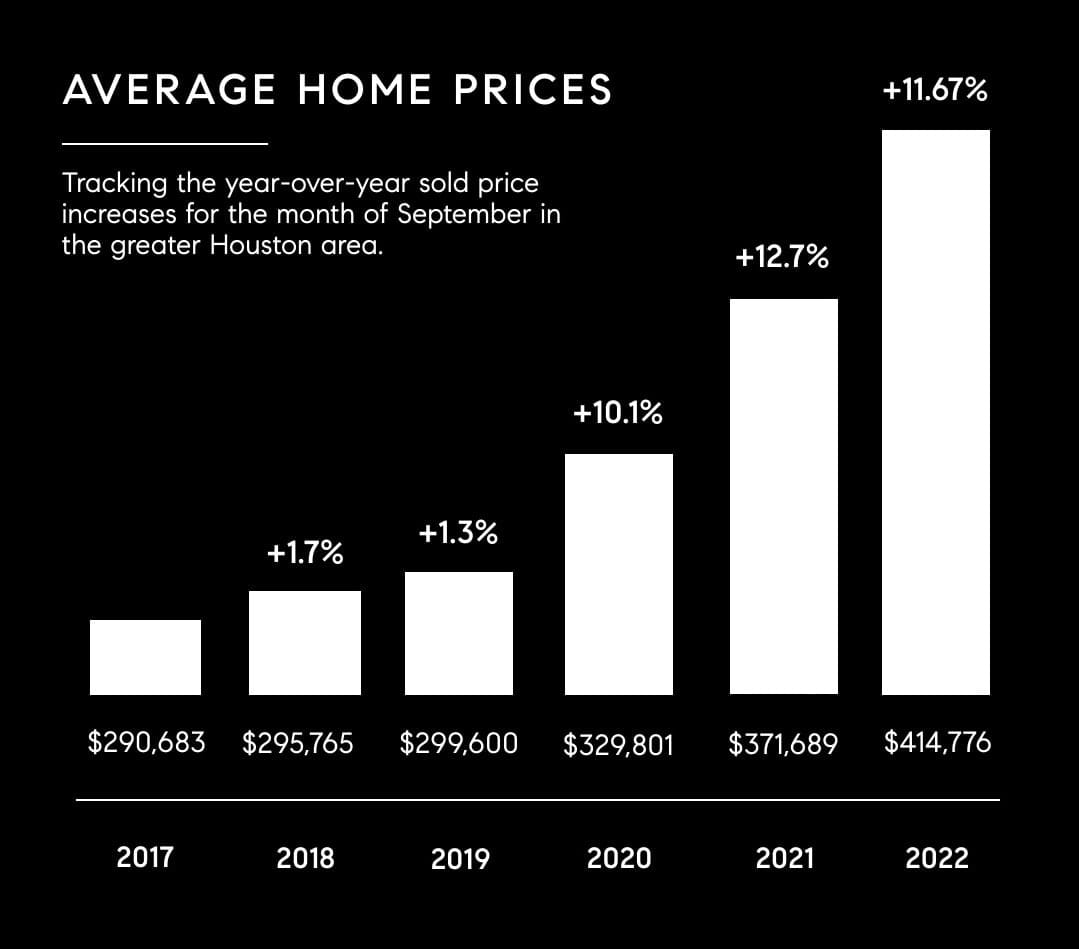 The market update headline in September 2019 stated "The Houston housing market shows no letup in September. Home sales remain on track for another record year", yet the YOY appreciation was a mere 1.3%!! In three years, the average home price in Houston has risen $115,176, a 38.4% gain!
The headlines about how the Houston area real estate market is plummeting, without shedding any insight as to exactly how high home prices have risen, continues to blow my mind!!
Monthly rent prices are also at historic highs. According to HAR's most recent rental market update, single-family home rentals shot up 25.7%; setting all-time high pricing records for the greater Houston area. September's average rent price was $2,180 -- slightly below last month's ALL-TIME high of $2,296/month.
If you are on the fence as to whether now is the time to buy or whether you should rent instead, this is a significant statistic to consider.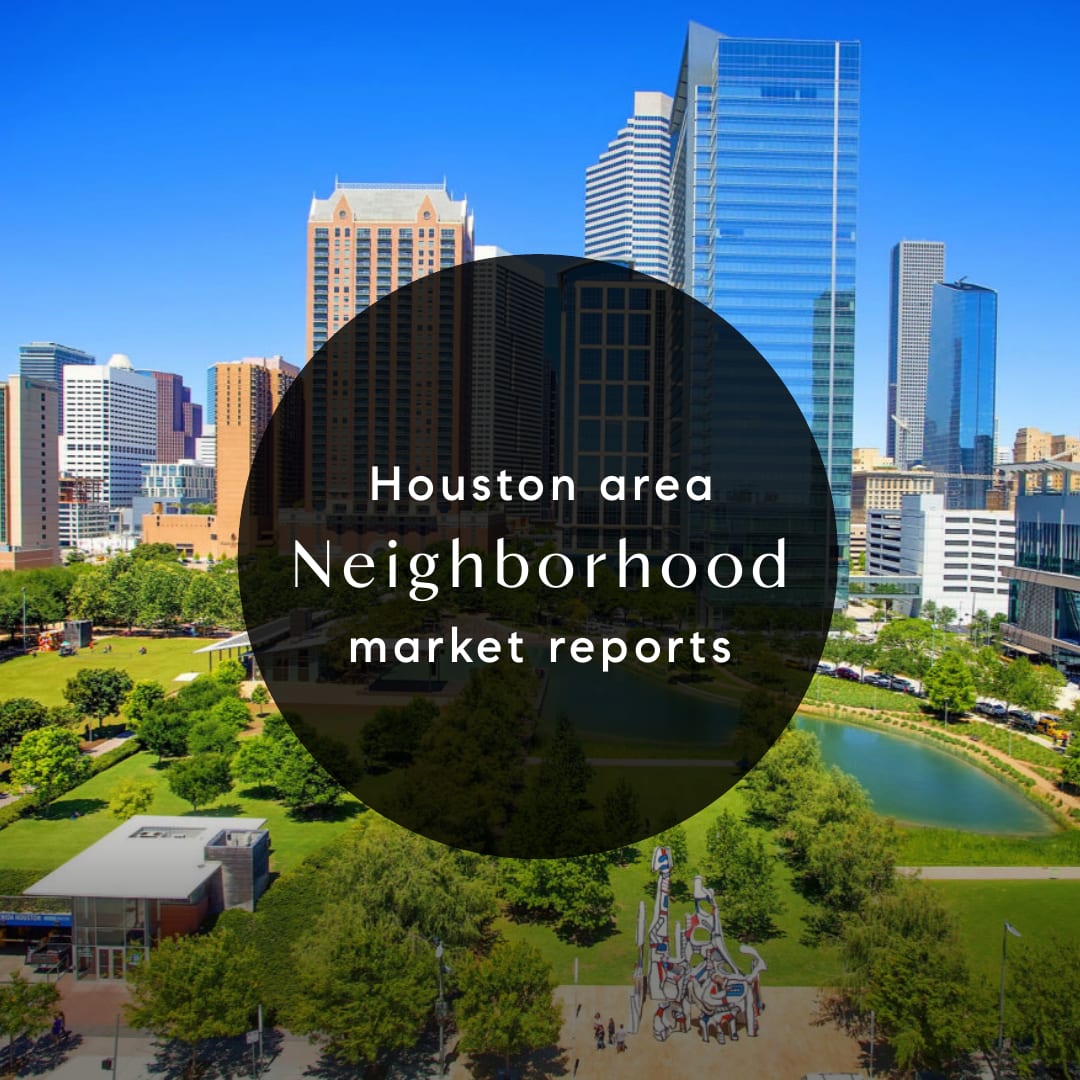 How is the real estate market around your block?
CLICK HERE
to view the live REAL-TIME market updates for the most highly sought-after Houston area neighborhoods! The live market updates and trending listings are live for Katy, The Heights, Memorial, Memorial Villages, Garden Oaks/Oak Forest, River Oaks, West University, Cypress, Montrose, Tanglewood, Bellaire, Briargrove, Oak Estates, Southampton, and The Woodlands.