Total property sales, total dollar volume, and average sales prices all set new records in June 2021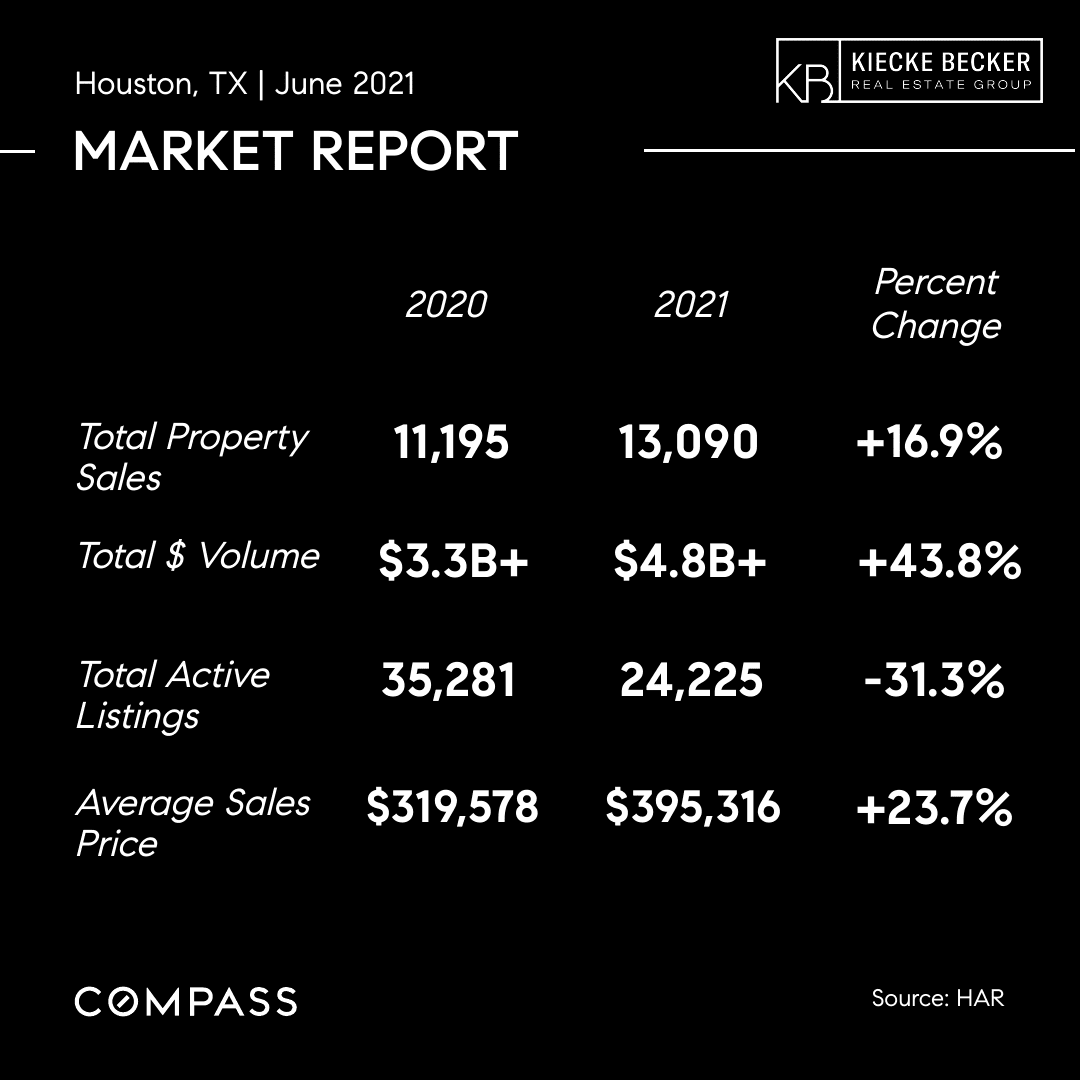 Consumers continue to snap up homes despite record low inventory and record-high prices throughout the greater Houston area! According to the latest Houston Association of Realtors (HAR) Market Update, sales of all property types hit the greatest volume of all time totaling 13,090 units sold making June 2021 the thirteenth consecutive month of positive sales.
Total dollar volume also soared 43.8% to a record-setting $4.8 billion with the luxury segment continuing to lead the way. Homes priced at $750,000 and above dominated with a 136.5% year-over-year increase followed by the $500,000 to $750,000 price range which climbed by a whopping 87%! The surge in the luxury markets pushed pricing to record-setting levels with the average sales price rising by 23.7% to $395,316. 
The limited supply of available homes on the market, strong buyer demand, and increased construction prices all played a significant part in the pricing surge.
Houston Real Estate Highlights in June 2021:
Single-family home sales increased for the thirteenth consecutive month
The average number of days on market fell from 57 to 29
Total property sales hit the highest volume EVER increasing by 16.9%
Total dollar volume hit a HISTORIC HIGH increasing by 43.8% to $4.8 billion
The average price of single-family homes reached a RECORD HIGH, increasing 23.7% to $396,316
Inventory fell to a 1.5 months supply, down from 3.0 months year-over-year and below the national inventory of 2.5 months
On a year-to-date basis, single-family home sales are 25.9% ahead of 2020's record pace
Are you interested in what your home is worth in Houston's current record-breaking real estate market?  to find out.