T
here are many reasons to feel optimistic about Houston's housing market! According to the Houston Association of Realtors (HAR), 2017 was Houston's second-best real estate year to date! 2015 was the single best year and so far 2018 is on pace to surpass 2017 and 2015 in pricing, volume and activity!
Houston's population is also growing at record speeds with both Harris and Fort Bend Counties ranking among the fastest growing Counties in the Nation! 3 ZIP codes (Katy's 77494 and 77449 and Richmond's 77407) led the trend as they were named the top 3 fastest growing in the Nation, according the U.S Census American Community Survey!!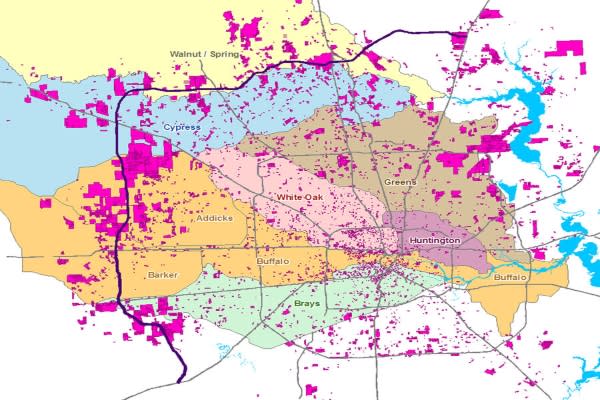 As far as individual Cities, Katy's population increased by almost 17,000 people, Spring increased by 12,500 and Richmond increased by over 9,000, according to the Houston Business Journal. The fastest growing ZIP code in the region was 77441 in Fulshear, where the population grew from 6,511 residents to 7,928. The 21.3% increase put the ZIP code at No. 22 in the U.S.

The vast amount of recent developments along the Grand Parkway is incredible!! In the past 5 years, more than 50,000 acres have been developed within 3 miles of it's completed sections (the new developments are noted in pink). This record breaking development comes as no surprise to those of us in the Katy, Cypress, Richmond & Sugar Land areas!

​​​​​​​Growth is bigger in Texas! The newest Census data released showed that 6 of the 10 fastest growing Counties were located in the Lone Star State!

​​​​​​Here are the top 10 rankings broken down by largest-growing ZIP codes and fastest-growing ZIP codes in the greater Houston area:
10 largest-growing ZIP codes in greater Houston
77494 Katy, Harris County with 9,438 people
77449 Katy, Harris County with 6,142 people
77407 Richmond, Fort Bend County with 4,891 people
77386 Spring, Montgomery County with 4,566 people
77433 Cypress, Harris County with 3,985 people
77099 Houston, Harris County with 3,473 people
77584 Pearland, Brazoria County with 3,081 people
77429 Cypress, Harris County with 2,788 people
77573 League City, Galveston County with 2,686 people
77044 Houston, Harris County with 2,636 people
10 largest-growing ZIP codes in greater Houston
77441 Fulshear, Fort Bend County at 21.3 percent
77384 Conroe, Montgomery County at 14.9 percent
77447 Hockley, Harris County at 13.2 percent
77565 Kemah, Galveston County at 13 percent
77407 Richmond, Fort Bend County at 12.7 percent
77494 Katy, Harris County at 10.7 percent
77386 Spring, Montgomery County at 10 percent