ouston buyers kept Realtors across the Houston area busy in July as they pushed sales volumes to RECORD HIGHS!! In fact, July 2019 set an ALL TIME record as the largest one-month increase for volume of single-family home sold! According to the latest monthly report from the Houston Association of Realtors (HAR), "July single-family home sales totaled 8,953. That is up 11.6 percent year-over-year and exceeds the last one-month sales volume record set in June 2018 (8,385). On a year-to-date basis, sales are 3.0 percent ahead of 2018's record volume."
The housing market in the Bayou City rose in ALL CATEGORIES throughout the month of July! Single-family home sales, total property sales, pricing, total dollar volume and inventory ALL increased in comparison to July 2018.
The Houston housing market broke the following records in July 2019:
Sales, for all property types, rose 10.9% in July, setting the new record with a total volume of 10,478 homes sold.

The total dollar volume also increased by 12.8% to $3.1 billion!

The average price rose by to 2.2% to $312,727.

The median price of single-family homes reached the highest level EVER for July, climbing 2.2% to $250,000.

Homes in the $500,000 to $750,000 range saw the largest sales gains, up 22% (vs. July 2018).

Homes in the $250,000 to $500,000 range rose 16.9%.

The luxury segment (homes priced at $750,000 and above) increased 5.3%.
Housing inventory is now holding at levels before Hurricane Harvey hit while also providing a broader range of options for home buyers.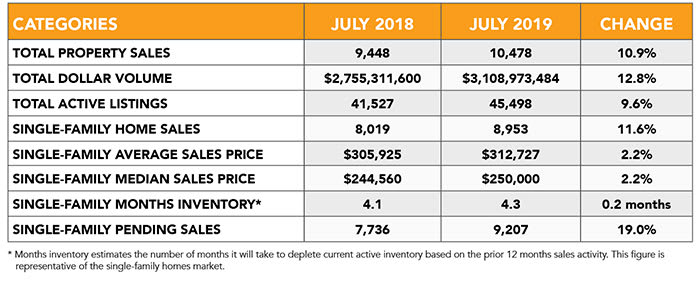 "July was a strong month for home sales and rentals across the Houston area," said HAR Chair. "We believe that the Houston real estate market is on track for another record year, and that is directly attributed to a healthy local economy, low mortgage interest rates and an improving supply of homes."
CLICK HERE

to read the complete July 2019 market update.